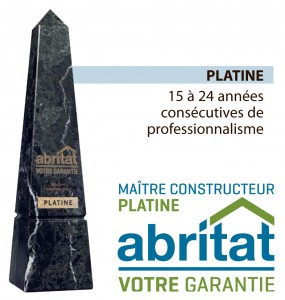 Our company is also certified as a "Master Builder" Platinum Accreditation.
The "Master Builder" accreditation constitutes one of reliability and professionalism.
It corresponds to the number of consecutive years during which a builder, since its accreditation to the New Home Warranty of APCHQ, maintained a satisfaction rate of over 97%. Platinum level is "14 to 24 consecutive years of professionalism."
As of January 1, 2015, the "Garantie Construction Résidentielle" (GCR) will administrate the New Home Warranty Plan for all future residential projects in Québec. GCR has accredited Duracon with the same designation as Abritat.